Meet The Team at West Valley Dental Implant Practice
---
Geraldine H: Office Manager
What do biology, medical school, dentistry, and April 1st have in common? These key ingredients are what brought Office Manager Geraldine to Dr. P.'s practice in 2003.
As her "second home," Geraldine enjoys the everyday challenge in managing the team and improving each patient's experience.
She says, "The best part of my job is when Dr. P. says to me 'you read my mind.'" Together they are a committed dental practice team.
As a world traveler, Geraldine enjoys cooking, reading novels, and listening to podcasts on her walks. Her cherished weekends are filled with friends and family, featuring her 13-year-old shih tzu, Tiki.
---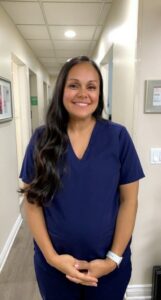 Melissa: Patient and Doctor Liaison
With a desire for providing outmost support to others, Melissa takes pride in her precious position in our practice helping our new and existing patients who need outmost attention and care. With a caring, loving and nurturing spirit, she brings a vibe to our office that is fun for all and inviting to our patients.
With the future goal of becoming a nurse, Melissa's great attention to detail, positive work ethic, and a heart for caring for others has paved the way to a successful future. She enjoys making connections in the office and has become a reliable team player.
When she is not in the office, she continues her nurturing personality in taking care of her family and being very attentive to her beautiful children.
---
Lorena: Clinical Assistant
Six years ago, Lorena fell in love with dentistry as she knew she could help people in a very personal way.
"When I started with Dr. P. five years ago, I learned that dentistry was an art. An art of skill, craft, caring, and commitment to making every patient happy with their treatment and transformation."
Today, Lorena continues to learn the "art of dentistry," as Dr. P. doesn't just treat patients, he also teaches his team to be their best.
At the end of the day, as she heads home to her 3 dogs and 3 turtles—yes 3 turtles—there is a satisfaction of knowing Lorena's patients' smiles are a work of art.
---
Louise: Clinical Assistant
Just say "YES" is the attitude that has made Louise such an invaluable member of our team. From the summer of 2007 to today, Louise has just said YES to everything we've thrown at her! Beginning as a temporary on-call team member to today being one of Dr. P.'s trusted surgical assistants, Louise brings a feeling of home and family in all her patient care.
Where can you find her when she is not at the practice? Now an empty nester, she enjoys hiking, biking, and gardening, along with great adventures with her husband.
Louise's secret dream? A vacation in Paris—Bon Voyage!
---
Margaret: Treatment Coordinator
Life is filled with many different paths; Margaret's has been in the dental field for half of her life. It may not be the path she had intended to take, but somehow it was paved perfectly for her.
She says of this experience, "Patients in a dental chair are in a most vulnerable position so they will have their guards up. Getting their trust is challenging, but once you do, it is very fulfilling. Meeting different people with different stories from different walks of life gives one a broader perspective in life."
On a personal note, Margaret likes to travel, watch movies on the big screen with her boys, go bowling, or simply hang out with family or friends enjoying a good laugh while sharing fabulous food and wine.
---
Mary: Specialty Hygienist
For Mary, dentistry is truly a family affair. From her grandfather and father to two uncles who are all dentists, you can say dental hygiene is in her genes. Hailing from Canada, Mary arrived in the states via Switzerland to teach dental hygiene at the University of Pennsylvania. There she met her husband Charlie and moved to California.
Joining Dr. Hyman and Dr. Mendelson's practice in 1976, Mary was introduced to Dr. P. in 1998; together they have been a team ever since.
Dentistry is about legacy and family. Mary and Dr. P. share both of these core values as Mary easily transitions from dental hygienist to Mom, Grandma, and the master Girl Scout cookie salesperson with her four adorable grandchildren.
---

Kristine: Specialty Hygienist
Dreams really do come true when your goal is to serve others! Graduating top in her class, plus receiving the Golden Scaler Award, Kristine has dedicated her career to helping patients. She's helped patients ranging from advanced cases of gum disease, periodontology, all the way to special needs children in pediatric dentistry—all to achieve healthy oral care.
Through special tools and techniques designed specifically for each one, Kristine's patients all learn to maintain their oral hygiene habits.
Outside of her career, Kristine loves spending time with family, gardening, and cooking meals from her many travels. Her lifelong dream is to create or join a non-profit organization to use her dental hygiene knowledge and skills to help children in undeveloped countries.
We just know that this dream is going to come true soon!
---
Belinda: Specialty Hygienist
Belinda has been working as a registered dental hygienist for 30 years since she graduated from USC.
She has joined our team in order to continue to work diligently in treating & caring for our perio patients .
When not at work she enjoys being with family either just at home or venturing out to different places together with them.
Contact us today and let your team help you achieve your BEST smile!