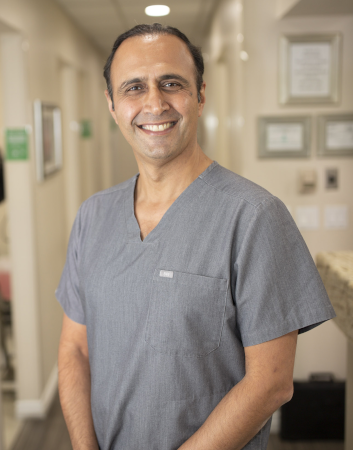 Dr. Penhaskashi is the premier periodontal specialist in Southern California, specializing in dental implants and minimally invasive procedures to optimize both patient experience and results!
From patient care and staff support to his commitment to dental community education, Dr. Penhaskash, or "Dr. P.," stands firm on his belief that health and wellness start with clear communication and compassionate patient care.
Educated at the California dynamic duo, UCLA (D.D.S. dental surgery degree) and USC (specialty degrees in periodontics and implantology), Dr. P. has been a professor, speaker, and alumni president. In addition, Dr Penhaskaski was involved with the Dental Society board as an active member and chair of the continuing education program. Plus, he's been a dental community innovator during the COVID-19 crisis by creating The Dental Hour with Dr. P plus The Hygiene Hour to inform, inspire, and support the dental community in its time of greatest need.
Dr. Penhaskashi maintains a private practice specializing in periodontics, periodontal laser therapy, periodontal plastic surgery and implant reconstructive surgery in the Encino area of Los Angeles. In addition, Dr. P.'s continuous life pursuit is being a master clinician in his pursuit of excellence in oral surgery.
To balance patient care with personal care, Dr. Penhaskashi. enjoys spending time with his lovely wife, Tracy, and their three active sons, along with the family mascot Bailey, a rambunctious goldendoodle. Many weekends you may find him enjoying food, friends, and ice cream while dining in Manhattan Beach or reclining under a tree in Cambria reading one of his favorite books, The Boys in the Boat by Daniel James Brown.
"Everything is about YOU in a Relationship"
My Core Values: Inspiration… Education… Collaboration… Transformation
---